Rangatahi Well provides local guidance to secondary schools for supporting the wellbeing of young people in Years 9 to 13.
Our waitohu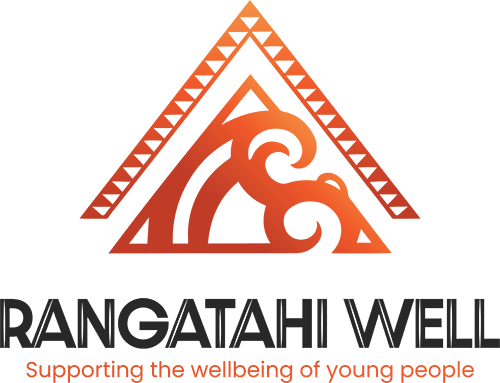 Our logo reflects the collective aspiration of thriving rangatahi.
The face at the centre represents the wellness of rangatahi, and paired with the kurutao above, it conveys a collective effort and journey.
The subtle raranga reference in the text speaks to the mythos of Taane, climbing the heavens and reaching for the three kete of knowledge he attained.
Our kaupapa
Today, rangatahi face mounting worries and pressures both in the world around them and online, alongside the usual trials of developing independence, and often with additional challenges in health, wellbeing, or their home or social environment.
Secondary schools are seeing a growing number of rangatahi needing support. Information for responding can be difficult to find or dispersed across multiple websites, and it is often not clear where to get advice or which services are available.
Rangatahi Well recognises the important role secondary school kaimahi have in offering early support to rangatahi with wellbeing needs.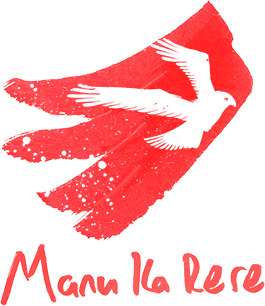 In Canterbury, Manu Ka Rere is partnering with experienced guidance developers to provide schools with key information, including:
advice about responding to a range of wellbeing concerns.
resource kete to help recognise when support is necessary, offer support, involve others, and plan together.
details on where to get additional support and advice.
links to professional learning and development opportunities.
self-care information and strategies to share with rangatahi.
recommended information to share with whānau.
Our mahi
Key messages are developed with input from local health and wellbeing subject matter experts, educators, and support services. Our approach to supporting rangatahi centres on enhancing mana, building protective factors, and a taking a strengths-based approach.
Secondary schools use the guidance in the way that works best within their own processes. Website visitors agree to follow their organisation's policies and procedures when using the website.
Rangatahi Well is also available to external education, health, wellbeing, and social service kaimahi so that all professionals working together to support rangatahi can access and share the same information.
As the guidance is written specifically for those with training in education, health, and wellbeing, the website is not publically available. Visitors must register to use the website.
Wherever possible, we prioritise resources that were developed in consultation or partnership with rangatahi.
If you would like to know more, including how Rangatahi Well can support the mahi of secondary schools in your region, contact us.
Manu Ka Rere partners
Rangatahi Well is supported by